PD POINTS: 5.0 DURATION (HRS): 7.00

Coaching Association of Canada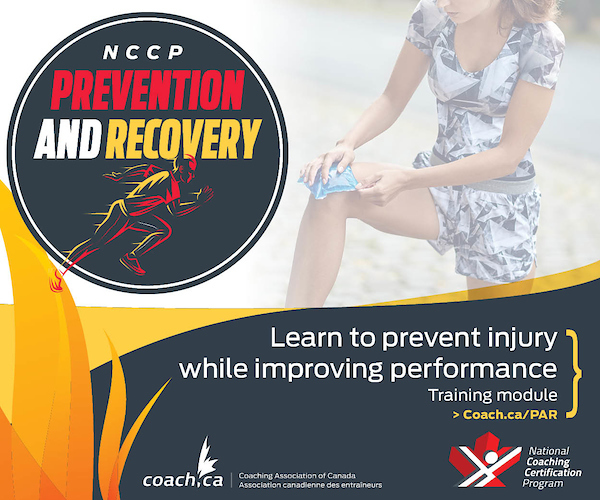 The NCCP Prevention and Recovery module provides strategies and techniques to prevent injury, while also improving performance. These 2 concepts are closely connected. Strategies that help with 1 of the concepts, directly influence the other.
This workshop supports coaches in preventing injury. It does not prepare coaches to intervene medically with an injured athlete. It's highly recommended that coaches take a first-aid course or have someone who has first-aid training be on site with them at all times during practices.
Learning outcomes
After finishing this module, coaches will be able to design a personalized Prevention Action Plan (PAP), which will enhance their athletes' performance and assist in preventing injuries. In particular, coaches will be able to:
Identify common injuries in sport
Identify prevention and recovery strategies for common injuries in sport
Design and implement appropriate warm-ups and cool-downs
Choose skills and drills that help athletes perform skills correctly
Support athletes' return to sport through awareness and proactive leadership
Implement recovery and regeneration techniques to maintain or return to optimal performance in training and competition
Provide appropriate information and guidance on hydration, nutrition and sleep that will each contribute to optimal performance in training and competition
NCCP High Performance 1
NCCP Multisport
NCCP Proffesional Development
Athlete Development
Athlete Health
Available times and locations
There are no in person dates for this program. Please return to continue searching.