PD POINTS: 5.0 DURATION (HRS): 4.00

Coaching Association of Canada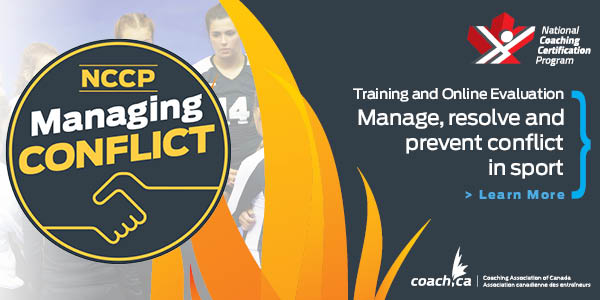 NCCP Managing Conflict introduces new and experienced coaches to the impact of conflict on sport in their day-to-day coaching practice. This module teaches key skills for achieving positive outcomes using effective conflict management techniques.
Learning outcomes
After completing the NCCP Managing Conflict training module, coaches will be able to:
Identify common sources of conflict in sport

Take steps to prevent and resolve conflict resulting from misinformation, miscommunication or misunderstanding

Listen and speak for themselves in conflict situations to maintain positive and healthy relationships with athletes, parents, guardians, officials, other coaches and administrators
NCCP High Performance 1
NCCP High Performance Coach
NCCP Multisport
NCCP Proffesional Development
Proffesional Development
Communication
Leadership
Ethics
Available times and locations
There are no in person dates for this program. Please return to continue searching.