PD POINTS: 3.0 DURATION (HRS): 8.00

Equestrian Canada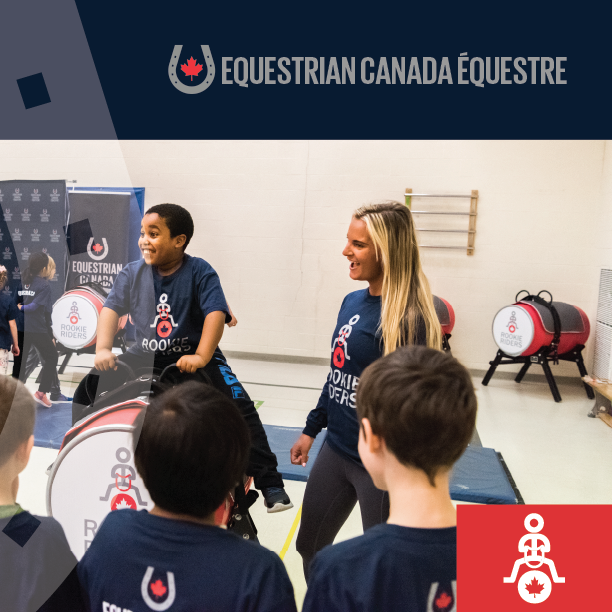 The fun-filled, active workshop focused on the instruction of fundamental skills and group management skills in a non-equestrian environment. At the completion of the program, instructor candidates will:
Be familiar with the ground and barrel skills in the program
Have practiced performing and teaching the majority of the skills included in the program
Able to manage a large group of participants and lead small group activities using Rookie Riders lesson plans
Be confident in their ability to deliver the Rookie Riders program to participants in the FUNDamentals and Learn to Train stages of development
Workshop participants will be given access to the PLAYBuilder App for a period of 1 year which includes access to pre-built lesson plans, instructional videos and other support resources as part of the workshop package. The workshop involves a high degree of physical activity, instructor candidates should be physically fit, capable of performing most skills in the Rookie Riders program.
Dressage
Endurance
Eventing
General Performance
Jumping
Reining
Saddle seat
Speed Events
Vaulting
Available times and locations
DATE
LOCATION

Apr 22, 2023
Time: 08:30-16:00


Sign-up by: Apr 21, 2023

DreamCatcher Farm, Inverary
$ 130.00
REGISTER


Seats remaining: 12

Instructor: Danielle Yaghdjian

Language: EN

Notes:

Welcome to Rookie Riders!

All participants must hold a current Equestrian Canada Coach Status.

Rookie Riders provides an opportunity for children to experience the joy of equestrian sport in a fun-filled program. The program curriculum is specifically designed to create an environment that promotes the development of physical literacy, with a specific emphasis on the fundamental movement skills applicable to all sports and a foundation of knowledge and skills to be able to ride a horse. The program is specifically designed to learn all the skills necessary to safely mount and dismount a horse, before being introduced to a horse for the first time.

The curriculum includes options for delivering the program with and without a horse. It includes:

Horse inspired activities and games to develop fundamental movement skills and knowledge about how to interact with and move safely around horses
Ground-based skills that help develop strength, posture and body awareness, and specific movement skills to be able to safely mount and dismount a horse • A "barrel horse" where skills can be specifically taught and practiced
An activity bank and sample lesson plan that helps students progress systematically from ground-based skills to mounted skills, to mounted skills on a horse.
Watch the video: https://youtu.be/-XaPUI7CmlI

The instructor responsible for any Rookie Riders session must always be present, hold an Equestrian Canada Coach License and an active NCCP Certification (any sport), or be a qualified physical education teacher, in addition to having completed the Rookie Riders 1 instructor training.

For those wishing to assist Instructors with delivering the Rookie Riders Program, they must:

Be 16 years of age or older
Complete the Rookie Riders 1 Instructor Training
Sign the Equestrian Canada Coaching Code of Conduct and Code of Ethics
Have their Learn to Ride English Level 6 or Western Level 4 if offering a Rookie Riders program that includes riding.