NCCP Competition Development: High Performance 1
Equestrian Canada's NCCP High Performance 1 (Competition Development) Coach is an advanced certification for coaches working with competitive athletes in the Learn to Compete, Train to Compete for stages of development aspiring to compete internationally. The training involved in this certification is also relevant for coaches working with athletes in the Competitive for the Life stage of athlete development.
Equestrian Canada's NCCP High Performance 1 (Competition Development) Coach are evaluated on their ability to:
present a clearly articulated coaching philosophy
demonstrate the ability to make ethical decisions and put your coaching philosophy into practice
manage team, facility and program logistics including appropriate agreements, competition planning and emergency action planning
provide a safe welcoming and inclusive environment for all athletes (human & equine), which promotes learning and supports development
demonstrate the strong understanding of foundational skills, the ability to identify the root cause of technical & tactical skill to design and implement developmentally appropriate training sessions that enhance both horse and rider performance
present a developmentally appropriate yearly training and competition plan (human & equine) which addresses technical, tactical, physiological and mental performance skills in preparation for international competition environments
To find out if this certification is for you, please complete our self-assessment.
To understand the steps to certification, please review the steps below. When logged in, you will be able view which certification requirements you have already completed.
For more information please contact EC's Coaching Lead, Sophie Balogh, sbalogh@equestrian.ca
NOTE: Prior to beginning any of the following steps, you must have "Active Coach Status: Current"
---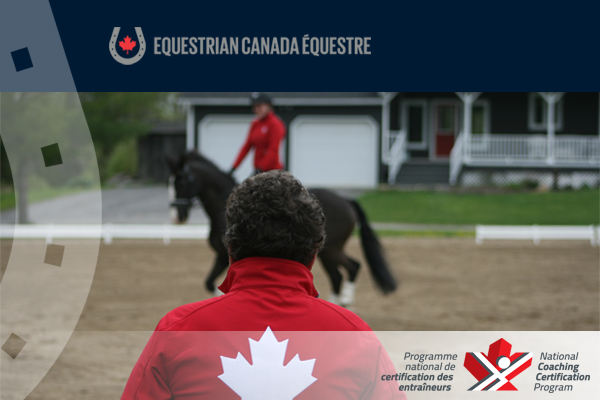 The following is required
Requirement
Name
Requires at least 4 Completed

Conditioning the Sport Horse
NCCP Leading Drug-free Sport
NCCP Managing Conflict (Online Evaluation)
NCCP Make Ethical Decisions - Evaluation
Requires at least 0 Completed

NCCP Prevention and Recovery (Human Athlete)
NCCP Developing Athletic Abilities
NCCP Psychology of Performance
NCCP Coaching and Leading Effectively
NCCP Managing Conflict
NCCP Make Ethical Decisions
Requires at least 3 Completed

NCCP Competition Development: High Performance 1 Coach Readiness Self-Assessment
Athlete Overview (Upload Document)
Yearly Training Plan (Document Upload)
Requires at least 1 Completed

NCCP Competition Development: High Performance 1 Registration
Requires at least 0 Completed

NCCP Performance Planning for Equestrian Sport
NCCP Advanced Practice Planning for Equestrian Sport
NCCP Analyze Equestrian High Performance
NCCP Performance Planning and Advanced Practice Planning for Equestrian Sport
Requires at least 1 Completed

NCCP Competition Development Evaluation: High Performance 1 Eventing
NCCP Competition Development Evaluation: High Performance 1 Reining
NCCP Competition Development Evaluation: High Performance 1 Dressage
NCCP Competition Development Evaluation: High Performance 1 Jumping