PD POINTS: 1.0 DURATION (HRS): 1.00

Coaching Association of Canada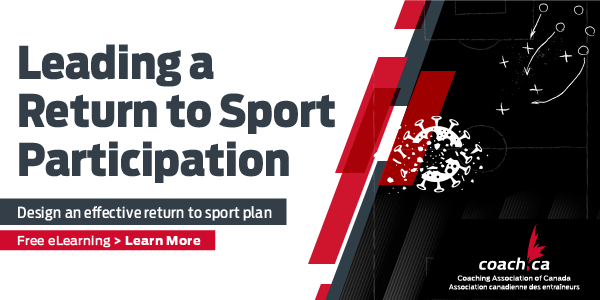 The process of restarting sport activities presents significant challenges for coaches and participants. After an extended period of restricted training and competition, participants may experience a variety of physical and psychological effects that will influence their return to sport participation.
Coaches play an important role in providing a supportive environment for participants during this transition period. This eLearning module provides guidance and resources to help coaches create a safe and adaptable return-to-sport plan.
After completing Leading a Return to Sport Participation, you will be better prepared to:
Identify the physical and psychosocial effects participants may be experiencing
Understand the role of a coach in facilitating the return to sport participation
Design a plan to return to sport participation during COVID-19
Lead and communicate with empathy
This course is offered by the Coaching Association of Canada. You will be taken to an external website to register and complete the course.
NCCP Proffesional Development
Breed sports
Dressage
Driving
Endurance
English
Eventing
General Performance
Jumping
Learn to
Para-Dressage
Reining
Saddle seat
Speed Events
Therapeutique
Trail
Vaulting
Western
Available Times And Locations
DATE
LOCATION

Mar 31, 2022
Time: 00:00-23:59


Sign-up by: Mar 31, 2022

Coach.ca Online , Ottawa
$ 0.00
REGISTER

Instructor: Not Listed

Language: EN

Notes:

You can complete the module in multiple sessions. Your progress will be saved so you can return and continue from where you were in the previous session. You will need to login via the Coaching Association of Canada's Locker to complete this training.