PD POINTS: 5.0 DURATION (HRS): 1.00

Coaching Association of Canada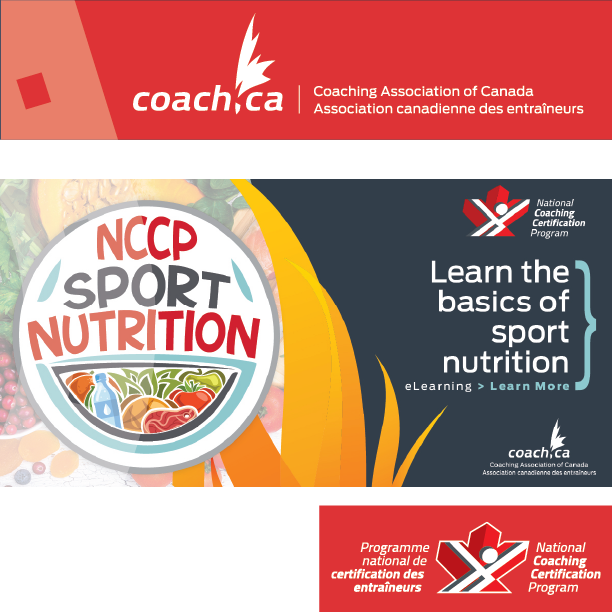 Good nutrition is important for both athletic performance and maintaining a healthy lifestyle outside of sport. By helping their participants make good nutrition choices, coaches not only empower them to perform their best, they help them to establish positive dietary habits that can last a lifetime.

The National Coaching Certification Program (NCCP) Sport Nutrition module provides coaches with education about basic sport nutrition principles. This eLearning module will provide an understanding of how to support athletes and their parents or caregivers to make effective nutrition choices.

After completing NCCP Sport Nutrition, coaches will be able to:

Explain the basic nutritional needs of an athlete.
Take appropriate measures to ensure that athletes stay hydrated during exercise.
Educate athletes on the use of nutritional supplements and sports drinks.
Encourage a positive body image in athletes.
Identify the different types of disordered eating.
Support athletes with special nutritional needs.
Identify common food allergies and intolerances.
Provide accurate guidance to athletes and their parents or caregivers on nutrition before, during and after exercise.
Provide accurate nutritional guidance to athletes and their parents or caregivers before and during travel.
NCCP Competition Coach
NCCP High Performance 1
NCCP High Performance Coach
NCCP Multisport
NCCP Proffesional Development
Breed sports
Dressage
Driving
Endurance
Eventing
General Performance
Jumping
Para-Dressage
Reining
Saddle seat
Speed Events
Vaulting
Coach
Instructor
Learning Facilitator
Master Coach Developer
Available Times And Locations
DATE
LOCATION

Jan 1, 2099
Time: 00:00-23:59


Sign-up by: Jan 1, 2099

Online - Coaching Association Locker, Ottawa
$ 20.00
REGISTER

Instructor: Self Paced

Language: EN

Notes:

THIS COURSE IS HOSTED ON AN EXTERNAL SITE
In order to complete this course, you must log in to "The Locker", the Coaching Association of Canada's coaching database and eLearning platform. The course is self-paced and can be accessed 24/7.